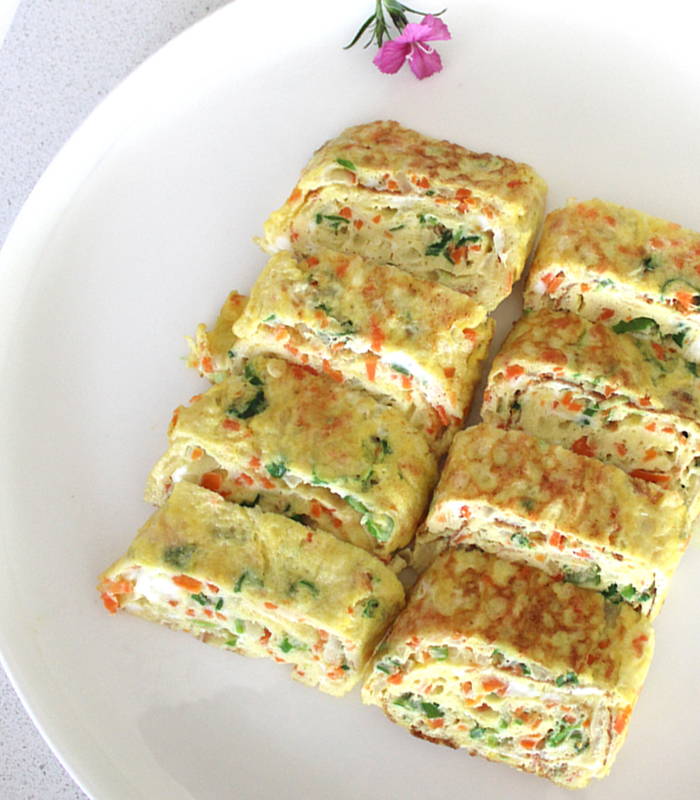 4 Large Eggs
Water: 1/4 cup
Salt: 1 tbsp
Chopped Carrot: 1/4 cup
Chopped Onion: 1/4 cup
Sliced Green Onion: 1/4 cup
Raw egg batter poured into a Ace Cook frying pan with partially rolled Gyeranmari.
Turn heat on to LOW. Pour another cup of egg mixture onto the pan BUT (IMPORTANT!!) start pouring the egg in the area of the unrolled egg. So that the newly added uncooked egg mix will merge and stick to the unrolled, not yet fully cooked part, and the egg roll can continue. See video.
Repeat steps until all egg mixtures are poured and rolled.
Turn the heat back up to medium and brown the four edges of the egg roll omelet to get nicely browned.
And also, it receives an excellent rectangular bar shape. Also, this makes sure it's cooked all the way through.
Using a spatula, carefully move the Gyeranmari to a cutting board. And let it cool for a couple of minutes and cut into 1 inch thick slices.
Serve warm or at room temperature.